---
Vol 51 No 2 Winter 2021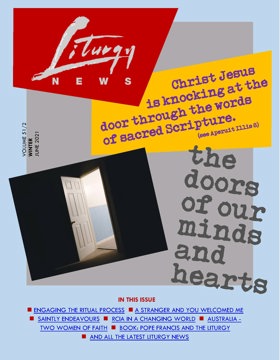 Editorial
ENGAGING IN THE RITUAL PROCESS
Elich, Tom
ENGAGING IN THE RITUAL PROCESS

I am often confounded when well-educated and committed people seem to be unable to engage in the ritual process. When an occasion arises that is out of the ordinary, the first questions put forward are: 'do you have a liturgy for…', 'have you got intercessions for…'; 'what do we do when…?' They reach for a mass-produced off-the-peg garment rather than craft a bespoke item which is appropriate and beautiful.

One current example relates to the closing of churches. Communities immediately look for 'resources', ritual templates, sample prayers… The National Liturgical Architecture and Art Council took a different approach. In Fit for Sacred Use: Stewardship and Renewal of Places of Worship (2018), the community taking leave of a church building was urged to engage in a process of remembering, documenting and ritualising. This is the work of a local group, brought together perhaps under the guidance of an external resource person.

The phase of ritualising depends on what is occurring. Is the building to be demolished or used for another purpose? What opportunities will be offered to the community for future worship and belonging? Has the church stood empty for a long time? Is it the centre of a country town or a less important second church in suburbia?

Who are the stakeholders in the event of the closing? Those who have been baptised in the church, or married there over the years, or those who have celebrated the funeral of a loved one, all have a claim to the sacred space. What is the primary emotion at play – thanksgiving for what has been or lament for what is ending?

What will happen to the furnishings and fittings… font, altar, tabernacle, artworks, altar linen, vessels and vestments, holy oils, processional cross, paschal candle? Will they find a place in a new community and a new place of worship? Where are the lines of continuity and discontinuity?

There are a lot of questions. It will take some time for the local community to talk over these things. But it is only when the locals arrive at some understanding and consensus that the liturgy can be prepared. Can there be some kind of handing over to a new community? Can there be some kind of procession to a new place? How and where will the memories be preserved? How will people take their leave?

In some church closures, people will move from place to place within the church making a prayer at the font, ambo, altar, tabernacle, front door… Sometimes people move out of the building in an exultant procession to a BBQ feast. Sometimes the liturgy ends in silence with candles and subdued lighting; individuals leave when they are ready after a time of vigil; the church is closed when the last one leaves. These ritual choices can only be made and appropriate texts composed when the community has engaged in the whole ritual process of reflection and discernment.

ENGAGING IN POST-COVID RITUAL RECONSTRUCTION

I believe a similar process is required of communities as they emerge from COVID restrictions. There is no blueprint. We need to talk together and map out a ritual process. Now, as the vaccination roll-out unfolds, it is time to start the discernment.
Some things will be easy and readily embraced by all. Most will be ready to take water again at the church entry to remind themselves of their baptism. (Churches that acquired contraptions such as 'contact-free' automatic holy water dispensers should take them down and put them into storage!) As touching others makes a return in our social interactions, so will most take to the sign of peace without too many scruples, particularly if sanitiser is still available at the door. A procession of gifts at Mass may return. What decisions do we need to make about hymn books or the collection plate? The regular cuppa after Mass will make a welcome comeback.

Some new practices might be continued. Perhaps those who have checked attendance lists at the door will continue their ministry with a new emphasis on welcome and hospitality. Producing an electronic newsletter and sending it to all parishioners by email, adding to this the Sunday readings and family liturgy resources, these are important strategies of outreach and connection which a parish might want to continue.

The sacramental practice of the parish since early 2020 will need to be reviewed. Where have we been over this time and where are we up to now? What has happened to our baptismal liturgy? Is it time to emphasise again the communal nature of baptism with several baptisms celebrated together? Should baptisms be celebrated at Sunday Mass? What about the little children who would have celebrated confirmation, first communion and penance? What has changed? What do we want to do now?
No doubt the most challenging will be our reception of communion. Will some want to go back to kneeling and receiving communion on the tongue or will a year or two of a different practice have reshaped their understanding? How will we go about reintroducing the fuller sign of communion from the cup? Will there be a temptation on the part of parish communities to forego the familial symbol of sharing a common cup, forego this sign of the kingdom and of the eternal covenant sealed in the blood of the cross? Australian parishes have worked hard over some decades to reassure people that sharing the common cup poses no health risks beyond what they encounter in normal everyday activities. How and when can we reengage with the command of Christ: Take and eat… Take and drink…?

Many parishes have adopted live streaming from the church, even investing in equipment and expertise. Where do these practices go now? How will a parish use them as a support to people's prayer life without compromising the full, active, conscious participation demanded by the liturgy itself? A reproduction is never a patch on a real work of art; a picture on screen is a long way from a real event. But it may continue to inspire. For example, parish groups might celebrate Morning Prayer or Evening Prayer for the screen at home, thus enriching the liturgical life of the parish and not impoverishing it.
The ritual reconstruction which needs to occur in a parish post-COVID will not be successful by just following instructions or copying what someone else has devised. It will be a wasted opportunity if it is nothing more than a return to the 2019 status quo. The parish pastoral council, liturgy committee, or another group of interested parishioners will need to embark upon an imaginative and collaborative ritual process.